Limit the websites that can be accessed by one or more student computers. The teacher can choose to restrict all web activity, allow only certain websites, or block only certain websites. This is often used to keep students focused or to create lessons that require students to access only certain sites.

Supported Web Browsers
LanSchool Classic supports limiting website access for students using Internet Explorer, Chrome, Firefox, Safari (macOS), and Edge 88+. In most cases, a companion browser extension is required. If teachers are experiencing issues with web limiting,
see Troubleshooting Web Limiting
.

If you are using LanSchool Classic in a Thin Client/ Terminal Services environment, web limiting is not supported.
Select the drop-down arrow to the right of the Limit Web button in the toolbar.

Select the Web Limiting tab.

Select either Block All, Allowed Web Sites or Blocked Web Sites and add website addresses to those lists.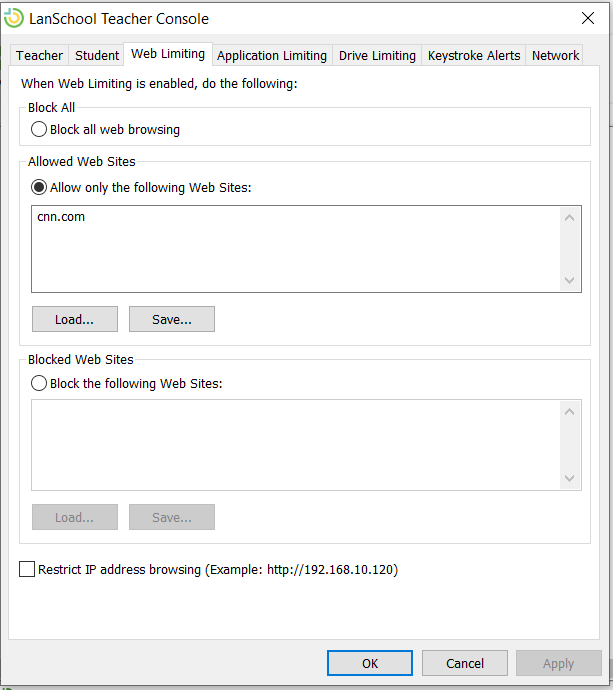 Adding Websites to the List

When adding websites to the Allowed or Blocked lists, start by entering only the site's domain name to allow or block the entire site (e.g. facebook.com, google.com). Entering a more specific website address (e.g. mail.google.com, en.wikipedia.org) will only block or allow that specific part of the website.


Examples:
Add to Blocked Sites: facebook.com Result: All parts of facebook.com will blocked.

Add to Blocked Sites: mail.google.com Result: All parts of mail.google.com will be blocked, but docs.google.com will be allowed

Add to Allowed Sites: docs.google.com/document/d/1llCNxxxxx Result: This specific Google Doc link will be allowed. All others will be blocked.

Using Wildcards

Use an asterisk (*) to act as a wildcard character to specify even more websites in your allowed or blocked website lists.

Examples:

Add to Blocked Sites: *youtube.com/ Result: All parts of youtube.com will be blocked.

Add to Allowed Sites: *lanschool* Result: All websites with the word "lanschool" in the URL will be allowed.


Enabling Limit Web on Student Computers

Select one or more student computer thumbnails (if none are selected, all computers will be limited).

Click the "Limit Web" icon in the toolbar (use the drop-down arrow to select either "Block All", "Allow List", or "Block List").

When a student accesses a site that is not allowed, they will be redirected to a LanSchool "access denied" page containing a list of websites listed in the "Allow List".

To stop limiting the web, click the "Limit Web" button again to toggle this feature off.